Middle East North Africa ("MENA")
Historically the strategic and geographical focus has been predominately exploration in Louisiana, USA. This focus had shifted in 2014 to include oil reserve acquisition in the MENA region. In Yemen, the Company holds two leases. One with undeveloped oil resources, and substantial exploration potential, and the second a production licence over 5 sizeable oil and gas discoveries, one of which is developed (An Nagyah) and has until recently been in production. The Company will actively continue to identify and acquire additional developed and undeveloped reserves within the MENA region.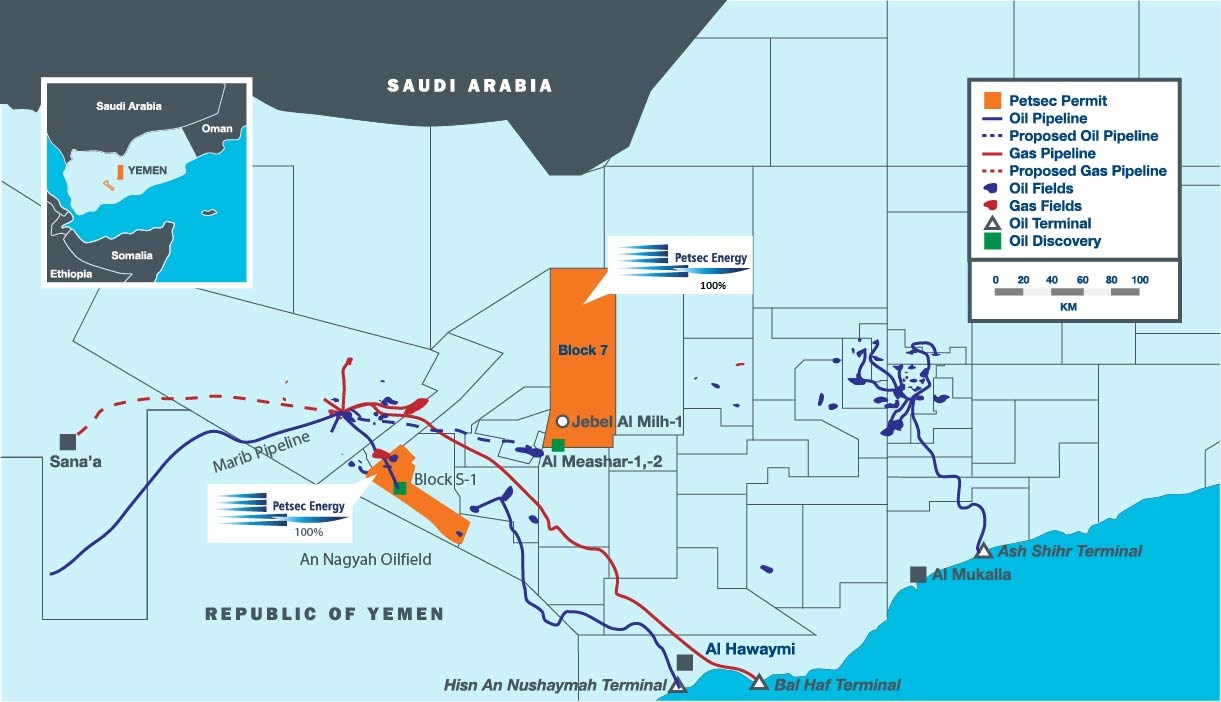 Block 7, Al Barqa Permit and Damis Block S-1 Production Licence in Yemen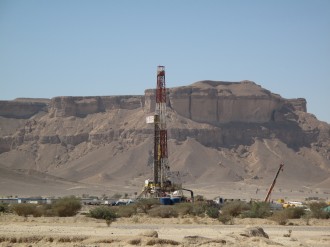 Block 7, Al Barqa Permit, Republic of Yemen
Operator: Oil Search (ROY) Limited
Working Interest: 35%; Participating Interest: 29.75%
Block 7 is an onshore exploration permit covering an area of 5,000 square kilometres (1,235,527 acres) located 340 kilometres east of Sana'a, the capital of Yemen. It contains the undeveloped Al Meashar oil discovery made in 2010, and an inventory of prospects and leads defined by 2D and 3D seismic surveys that hold significant oil potential ranging from 2 to 900 MMbbl of oil.
The Al Meashar oil discovery is similar in geology and structure to the Habban Oilfield, located 14 kilometres to the West of Al Meashar, operated by OMV. The field had been producing at rates of 23,000 barrels of oil per day prior to its shut-in in 2015.
In 2014, the Company executed agreements with AWE Limited (25% working interest / 21.25% participating interest) and Mitsui E&P Middle East B.V. (10% working interest/ 8.5% participating interest) to acquire their respective interests in Block 7. The Company concluded the acquisition of these interests in September 2015.
In April 2015, the Company executed an agreement with Oil Search Limited to acquire all the shares of its subsidiary Oil Search (ROY) Limited, which holds a 40% working interest (34% participating interest) in Block 7 and is the designated operator of the exploration permit. Finally, in 2016 the Company entered into an agreement with KUFPEC to acquire their 25% working interest (21.25% participating interest) in Block 7 in Yemen. The KUFPEC transaction brings the Company's potential interest in the block to 100% pending approvals.
As soon as the situation in Yemen allows, the Company's first objective in this block is to bring the two suspended discovery wells (2010/2011) of the Al Meashar Oilfield into production. Short-term testing of the wells in 2011 delivered flow rates ranging from 200 to 1,000 bopd.
---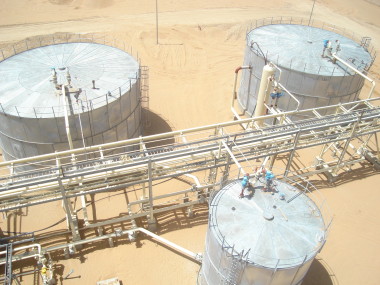 Damis Block S-1, Republic of Yemen
Operator: Yemen (Block S-1), Inc.
Working Interest: 100%; Participating Interest: 82.5%
The Company announced on 5 February 2016 a further significant expansion of its oil and gas interests in the Republic of Yemen with the acquisition of entities holding a 100% participating interest (82.5% equity interest) and operational control of the Damis (Block S-1) Production Licence.
Damis (Block S-1) is located approximately 80 kilometres to the southwest of Block 7 and holds five sizeable oil and gas discoveries – the developed and producing (until suspended in 2014), An Nagyah Oilfield, and a further four undeveloped oil and gas fields – Osaylan, An Naeem, Wadi Bayhan, and Hamel.
The An Nagyah Oilfield has remaining gross 2P reserves of 12.8 MMbbls of oil, which 5.6 million barrels of oil is net to the Company, net of all royalties and costs, and has an estimated NPV10 value of US$155.4 million at Brent oil forward prices at 1 January 2016.
The four undeveloped fields hold substantial oil and gas target resources (34 MMbbl oil and 550 Bcf gas), which will be a source of future growth of production and reserves for the Company.
The block contains significant existing infrastructure, including surface facilities with a capacity to process up to 20,000 barrels of oil per day (bopd) and an 80,000 bopd pipeline, which joins the 200,000 BOPD Marib export pipeline to the Ras Isa terminal on the Red Sea Coast.
The An Nagyah oil field was shut-in at the end of February 2014 following the declaration of Force Majeure by the previous operator due to political issues in Yemen and consequent inability to ship oil for the Al Nagyah oil field from the export pipeline terminus on the west coast of Yemen.
It is Petsec's intention to restart production as early as the political situation makes possible, either by pipeline or trucking or a combination of both.